Abbey Neves is a 16-year-old with an enchanting voice and a powerful message to share with the world. She travels all across Ontario to promote her own Anti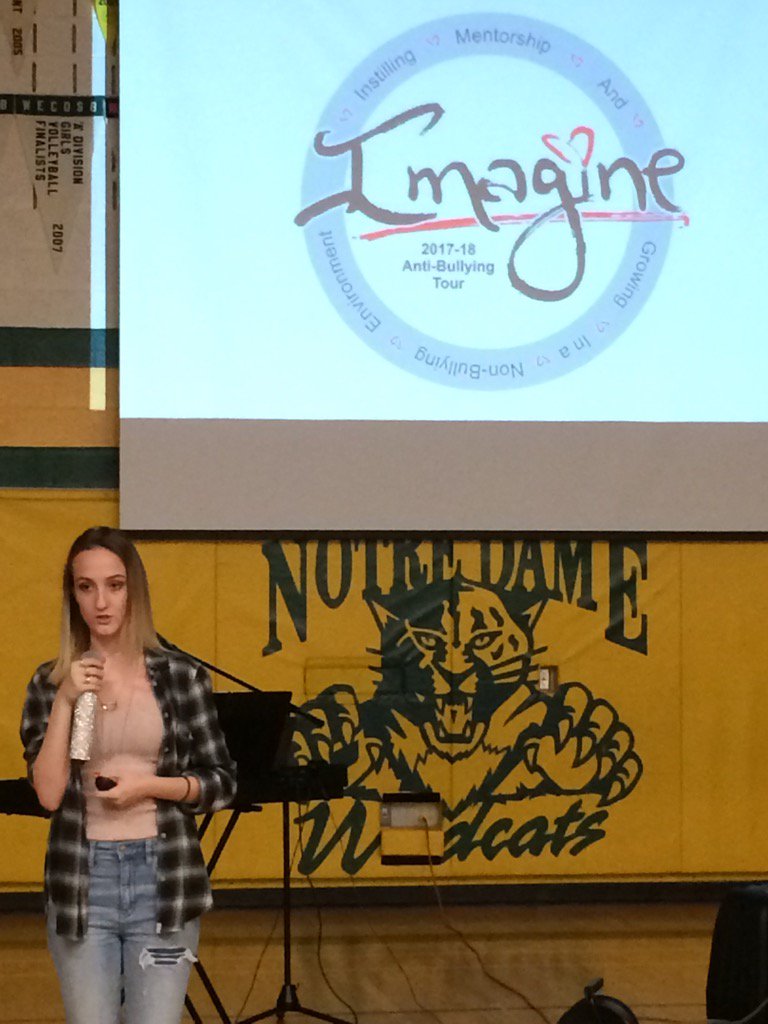 -Bullying IMAGINE Tour and share her own experience of bullying. ( IMAGINE~ Instilling Mentorship And Growing In a Non-bullying Environment) And today, she took time out of her day to come and visit our school and share her bullying experience and message. To me, I think it is incredibly brave of her to stand in front of all those people and share her own personal story.
At the start of the presentation, Abbey started discussing her grade 8 bullying experience with the rest of us. She talked about how she was always bullied for how she dresses, acted and even what she said… And then suddenly, I felt a connection. It's not that I am getting bullied or anything… It's just that, in today's day and age, people always judge others based on their physical appearances. Though I never went through what she went through, I understood exactly how she felt.
Abbey then mentioned an invisible backpack filled with heavy bricks. For every time she got bullied, a heavy brick would fall into her invisible backpack making it more difficult for her. It was so easy to understand how she felt because when I was younger, I used to do the same exact thing. I would compare my emotions to objects, an example of a common one I used; the more good deeds I have done, the higher my invisible air balloon would fly. And soon enough, I would reach heaven. (I was just a kid…)
Abbey educated and talked to us about a lot of things, but one that stuck out for me the most was when she introduced this book; "Queen Bees & Wannabees". This book was originally made for moms to understand their teenage daughter's lives a bit more. The book also talked about each role the students play in most teenage girl's life.
It was like a social pyramid. The Queen Bees were at the very top of the pyramid. These people have control over everything because they are the most popular. Then there came the Queensbee's best friends, who do exactly what the Queenbee's asks of them to do. Bellow the Queenbees best friends came the two-faced messengers. These people pretend to be your friend, collects information from you and then shares then with the queens. They are two-faced. The more information they collect about others, the closer they are to the queens. And then comes the Wannabees. These people would do anything to fit with a group of people. From changing their hairstyles to how they speak. They are willing to risk it all.  People who are at the bottom of the pyramid are called the Targets. These people are always targetted by bullies. They are always the ones made fun of. And though all of these roles are invisible, its pretty easy to guess who's who in a group of people. This is everywhere, it's just that people don't really realize it.
This 16-year-old taught me way more things about bullying than any other teacher had. Abbey's past experiences about bullying also taught me a lot about myself that I didn't even know. I feel like every 8th grader should have Abbey visit their schools and present this same presentation in hopes people would actually realize that the little things they say mean a lot to people.