I have waited literally all my life for Muskoka… Literally. 🙂 Going to Muskoka was like a dream come true. My grade 8 class of 15 or so students arrived at Muskoka on May 2nd and left on May 5th. These 3 days that I have spent away from home taught so many things about life that I was not able to figure our back home.
On the first day of arrival, the first activities we did were the high-ropes. The high-ropes were a bunch of challenging activities we had to face that were from very high heights. Sarah and I tried out the first one. We had to climb a leafless tree then stand on top of a see-saw high up in the air. Even though we were safe wearing those life jacket thingys, I felt uncomfortable and scared to death. To me, climbing up the tree was so easy, but when I got to the top, I was so confused to where my legs were supposed to go. I was terrified to the point I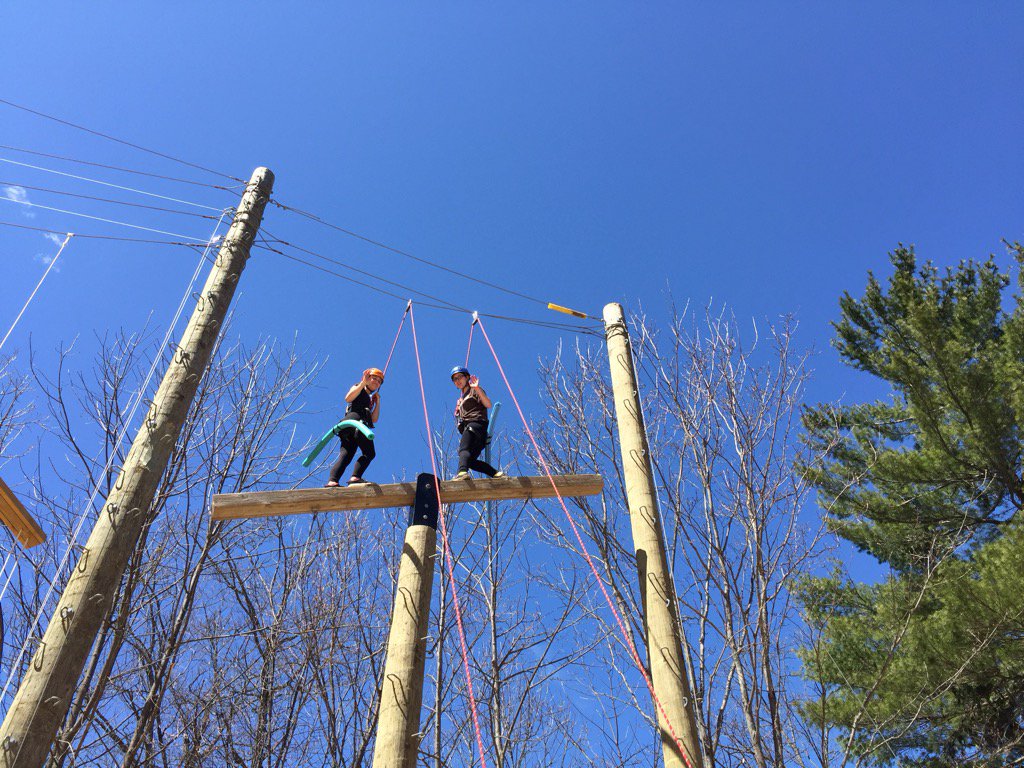 started sobbing. With the cheers of my classmates below me holding the rope of my life jacket, I gained enough strength and courage to climb up onto the see-saw. Sarah climbed up to the see-saw then sat facing me. At this point, Sarah suggested we should stand on the seesaw then fight with our noodles, like how the leaders told us to do it. But the coward side of me was too afraid to get up. Still sobbing, I listened to Sarah, finally, then stood up. The view from there on down scared the courage out of me. We didn't even get to the point where we fought with our noodles, I just got down right away. On only the first day, I learned so much. I had acrophobia since I was 7 where I would be too scared to look down from only the second floor of a building. I faced my fear of heights on the first day and was able to go on all the activities that included heights.
On the third day at Muskoka, everyone, including me, was excited to go on the big swing. The big swing was one of the best activities at Muskoka Woods. You are tied tightly to a life jacket that is tied to a rope your classmates will be able to pull to get you high up in the air then drop you. Almost everyone in my class has gone on the big swing, except me and a few others. At first, I was extremely pissed off and butthurt. But then I realized that a classmate of min
e, who I will not point out, has not went on almost half of the activities due to his anxiety. I was exactly like this person when I first came to Muskoka. When I climbed on the first activity with Sarah. I was fearful and scared. But I got over that surprisingly quickly. This person did not get over their fears and wasn't able to go on half of the activities I was fortunate to go on. I felt really bad for this person because I know how it felt like to be too scared to do something. Anyways, I got over it and was happy that most of my classmates that weren't able to go on the other activities like the zip lining, were able to go on the big swing.
On the last day, right before we got on the bus back to Windsor, I realized two important things;
1, I probably should have brought food because I was starving to death.
And 2, time flies by so fast, it felt like I just arrived at Muskoka. On the last day, I learned that time never goes back. You can't rewind or pause a moment. This is why it is important for us to live IN the moment we are in right now. Don't be afraid to do something, because in the future you will probably regret it. Now, looking back, I do not regret anything. Never allow waiting to become a habit. Live your dreams and take risks. Life is happening now…